EECS researchers are building innovative signal processing techniques that exploit noise and interference for additional information or as cover for covert messages. They are developing static/adaptive filtering schemes that will better enable cooperative communication systems and networks. Remote sensing research of the polar ice caps has led to numerous developments in signal processing. New techniques and methods are being explored in computer vision, digital image processing, optical sensors, and other current EECS research.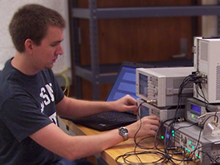 Program Objectives
Understand the fundamental principles involved with extracting signals from noise and interference.
Understand how to design appropriate static/adaptive filtering schemes according to the particular application, availability of prior information, and operational environment.
Understand the fundamental limitations imposed by physical systems that bound realizable performance.
Have the ability to effectively communicate complex, abstract concepts.
Associated Facilities
Xilinx and Altera FPGA/SoC prototyping systems
Synplicity and Xilinx FPGA synthesis tools
ModelSim VHDL/Verilog simulation tools
Spectrum analyzers, oscilloscopes, and function generators
Prototype PC board fabrication tools
RF signal generators
Simulink
Computational cluster with over 1,000 processors connected to 37 TB of on-line storage