Glenn Prescott
---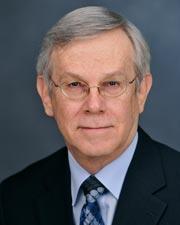 Research
—
Digital signal applications for Communications and Radar
Digital communications
Military radio systems
Low probability of intercept communications
Time-frequency signal analysis
Research interests:
Software Radio Systems
Spread Spectrum and Military Communication Systems
Radio and Radar Signal Processing
DSP Applications in Acoustics and Radio Signals
Wireless Communication Systems
Teaching
—
Digital Signal Processing
Digital Communications
Electronic Design
Modulation and Coding
Linear system
Selected Publications
—
"Alternative Communication Networking in Polar Regions," Mohammad, A., N. Chalishazar, V. Frost and G. Prescott, International Symposium on Advanced Radio Technologies, March 2-4, Boulder, CO, 2004.
"Multi-channel Iridium Communication System for Polar Field Experiments," Mohammad, A., V. Frost, G. Prescott and D. Braaten, IGARSS 2004, Anchorage, Alaska, September 2004.
"Collection of Empirical Data for Assessing 800 MHz Coverage Models," E. Meyer, G. Prescott, Final Report for KDOT Project RE-0321-01, KTRAN Project KU-03-7. 19 March 2004.
G. Prescott, S. Gogineni, C. Allen, V. Frost, C. Tsatsoulis, A. Agah, "Polar Radar for Ice Sheet Measurements," Proceedings of the 2003 International Geoscience and Remote Sensing Symposium (IGARSS 2003), Paper #03.1739, Toulous, France, 21 – 25 July.
A. J. Mohammad, G. Prescott, D. Braaten, "A High-Speed, Long Range Mobile Communications Link for Use in Polar Regions" 2003 American Geophysical Union (AGU), San Francisco, 2003.
F. Lansing, L. Lemmermann, A. Walton, G. Bothwell, K. Basin, G. Prescott, "Needs for Communications and Onboard Processing in the Vision Era," International Geoscience and Remote Sensing Symposium (IGARSS 2002), Toronto, Canada, 8 – 12 July 2002
G. Prescott, S. Smith, K, Moe, "Information System Technology Requirements for Future Earth Science Satellite Missions", International Geoscience and Remote Sensing Symposium (IGARSS 2001), Sydney, Australia, 9 – 13 July 2001
G. Prescott, and R. Mills, "Detectability Models for Multiple Access Low Probability of Intercept Networks," IEEE Transactions on Aerospace and Electronic Systems, Vol. AES-June 2000.
D. Chatterjee, S. Chakrabarti, K. Shanmugan, G. Prescott, "Performance Simulation Studies for a Class of Smart, Conformal Array Antenna Architectures," IEEE International Conference on Phased Array Systems and Technology, Dana Point, CA, 21 – 25 May 2000.
Awards & Honors
—
University of Kansas Sharp Teaching Professorship (1999 - 2001)
NASA Sabbatical Fellowship to Goddard Spaceflight Center, Washington DC. 1999
Air Force Office of Scientific Research Summer Fellowship, USAF Rome Laboratory, Griffiss AFB, NY. 1991 and 1996
Eta Kappa Nu, Delta Xi Chapter, Outstanding Instructor of the Year, 1987
Service
—
Associate Director for Technology (Information Systems), NASA Earth Science Enterprise, 1999-2000
Memberships
—
IEEE (senior member)
American Society for Engineering Education
Armed Forces Comunications Electronics Association
American Radio Relay League
Air Force Association
Air Force Sargents Association