EECS researchers integrate leading-edge research with practical implementation across a wide range of challenging communications systems problems. Current research efforts include delay-sensitive, energy-efficient wireless communication, multi-user communication systems and networks, advanced modulation techniques, channel coding, and synchronization. Building on a long and storied history in communication innovation, EECS researchers are developing the future Internet, mobile apps, optical sensors, RFID tags, and spectrum measurement and management techniques.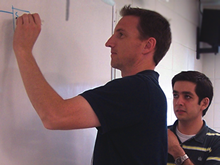 Program Objectives
Understand fundamental principles and underlying technologies of communication systems.
Understand how to apply communication theory principles in the design and analysis of communication systems.
Understand how to realize communication systems, including simulation and efficient implementation.
Associated Facilities
Optical spectrum analyzer
50GHz microwave network analyzer
40GHz digital oscilloscope
Tunable laser sources and optical filters
40Gb/s and 12 Gb/s BERTs
Electro-optic modulators, WDM multiplexers, demultiplexers
High-speed photodetectors
Commercial WDM systems
High-speed digital T/R rooftop antenna
360 km of fiber installed for systems-level testing
DSP rapid prototyping system
Circuit board fabrication facility
Logic analyzers
Network analyzers
Spectrum analyzers, oscilloscopes, and function generators
Prototype PC board fabrication tools
RF signal generators
Communications link simulator- Simulink
Variety of DSP and EM design tools
Note: Students must take either EECS 865 or EECS 728 to fulfill their core coursework requirement.
Elective Coursework (MS)