Brian McClendon
---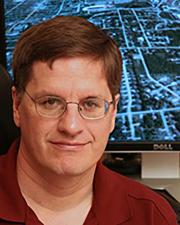 Biography
—
For 10 years, Brian McClendon was a Vice President with Google and led the entire Geo business unit building Google Maps, Street View and Google Earth. In 2013, he was awarded the United Nations "Champions of the Earth" for his work on Google Earth. He was inducted into the National Academy of Engineering in 2015 and holds an honorary doctorate in electrical engineering from the University of Kansas. In 2018, he ran for Kansas Secretary of State as a Democrat. He holds over 30 issued patents.
Research Description:
My focus is on democratizing machine learning, computer vision, autonomous vehicles, and next-generation mapping technology.
Research Keywords:
machine learning; computer vision; autonomous vehicles; world-scale mapping
Research
—
Research interests:
Machine Learning
Computer Vision
Autonomous Vehicles
World-scale Mapping