EECS Professor Leads New $1.5M Virtual Institute to Protect Cyberspace
---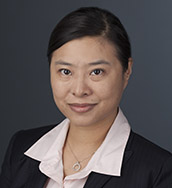 Fengjun Li, a KU professor of electrical engineering and computer science (EECS), is leading a new virtual institute at the University of Kansas School of Engineering to train the next generation of military and civilian leaders in cybersecurity and electromagnetic spectrum (EMS) security.
The institute, known as the VICEROY Virtual Institute, was funded by a $1.5 million grant from the Department of Defense. It will partner with researchers at Ohio State University and Purdue University Northwest.
The institute will offer an augmented curriculum that includes hands-on training, research-oriented experiential learning, and scholarships. It will also offer two special education and training programs for developing cyber talent and qualified cyber instructors. The VICEROY Virtual Institute is scheduled to launch in fall 2023.
The EECS department has a long history as a national leader in cybersecurity research, development, and training. The federally funded Institute for Information Sciences (I2S) has researchers developing technology in the areas of cybersecurity, computing, communications, bioinformatics, signal processing and sensors. I2S is also home to cybersecurity research at KU and is continuously supported by the university.
For a detailed description, please visit here.