Computing in the Biosciences
---
EECS researchers examine fundamental problems in biology and how principles and technologies of computing can be applied to life sciences. They advance computational methods and tools for applications in biological, biochemical, and medical fields. Interdisciplinary research in biosciences at KU includes modeling, analysis, data management, and algorithm optimization.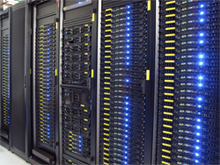 Program Objectives
Understand basic concepts and fundamental problems in biology.
Understand fundamental principles and technologies of computing in biosciences.
Understand how to apply and adapt computational methods to address life sciences problems, particularly bioinformatics problems.
Have the ability to effectively communicate to impact technological decisions.
Associated Facilities
Artificial intelligence development tools and languages:
Lisp, CLOS, CLIPS, Prolog, GBB, OPS, MEM-1
Computational clusters:
Linux cluster with 64 dual processor 3.2 Ghz Xeon processors and 64 dual core 2.8 Ghz Xeon processors for a total of 384 processors 37 TB of on-line storage Reconfigurable floating-point gate arrays
Bioinformatics software including:
ClustalW, Emboss GENSCAN, hmmer, Ncbi toolkit
Data mining tools:
SNOB, Cobweb, ID3, C4.5, statistical analysis packages, LERS Genomics Unified Schema installation
Information retrieval and Web tools:
KUIR Information Retrieval Library
Parallel development tools including MPI, Pfortran, and PC
Parallel GROMOS for molecular dynamics