The first three students were chosen to participate in Jayhawk Scholarship for Service CyberCorp program for its inaugural class of 2016-2017. Jayhawk SFS was created with a grant from the National Science Foundation and trains students who choose the professional specialty of cyber security, and prepares them to succeed in challenging careers in government agencies to enhance security of critical national information infrastructure. Each student receives two to three years of scholarship support, which consists of full tuition, professional development allowance, books allowance, health insurance and a living stipend.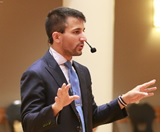 Jason Gevargizian is working on his Doctor of Philosophy in Computer Science, planning to graduate in May 2018. He received is Masters in Computer Science in 2015 from KU. Jason has served as a research assistant for Professor Prasad Kulkarni and as a teaching assistant in his time at the KU School of Engineering.
Some of the projects Jason has been working on while at KU have helped him develop his skills. Here is a list of some of those projects: ArmoredSoftware is a government funded project in the area of trust and security. Jason works with professors Prasad Kulkarni, Perry Alexander, and Andy Gill along with several classmates on the project. The ArmoredSoftware is a system for security in the cloud. He has also developed CryptoClutch; a browser extension for Chrome that enables end to end, i.e. browser to browser, AES 256 encryption for social media platforms, chat clients, email clients, and more. CryptoClutch features a key management system that allows for the seamless automatic decryption of cipher text in the browser window along with tagging and highlighting options to allow sophisticated users to easily distinguish decrypted text's source. Jason also has created BTCUSD; a money exchange service. The service has a public site front end and several background task managers. For academic purposes, Jason developed a generalizable man in the middle HTTP attack deamon that allows one to configure a set of content modification rules and tie it to a specific incoming URL target URL pair. Jason said, "I have broad and genuine interest and experience in the area of software security and trust. I am also passionate regarding applying the cybersecurity skills that I acquire for the betterment of society and the country. I am excited to work for the government in fulfilling such a role."

Katelyn Dean is a junior in the BSIT Program. She hails from Olathe, KS and attended Olathe South High School where she was involved with debate, forensics, the Science Olympiad Team, and received many academic honors, including National Merit Commended Scholar. Katelyn transferred to KU this year after attending Johnson County Community College for two years, being named to the Presidents Honor roll both years. Since 2014 she has worked as a POS Attendant, Computer Support for the City of Olathe. Katelyn's passions include working with computers and solving puzzles. Cyber security is the ideal career path for Katelyn as not only will a career in this field involve computers, but she will get to do the one thing that she has always loved the most: solving problems. "The rush of adrenaline and purpose that I feel while tracking down a solution isn't something that I would give up easily".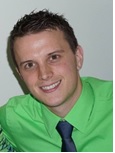 Eric Schweisberger is working towards his Bachelor of Science in Electrical Engineering, and is scheduled to graduate in 2018 after transferring from Johnson County Community College. Eric was motivated by the allure of a rapidly advancing field in technology when he chose EECS. He knew there was a great deal of unknown in the subject and wanted to grasp the opportunity to be a pioneer within the field. Eric interned at ON Semiconductor in Beaverton, OR as an applications engineer and as an electrical engineering intern at RBC Medical Innovations in Lenexa, KS. His involvement with student groups at KU include Jayhawk Motorsports Formula SAE Team and EcoHawks. After researching government opportunities, Eric would like to pursue development of technologies within a defense related field. Eric has always been fascinated by aeronautical sciences and it has been a lifelong dream to contribute to technology used by the Air Force or NASA. "I see employment with the government as a way to contribute to the common good and reliably afford a balanced and meaningful life."
More information and the program application can be found at www.sfs.ku.edu or contact Noelle Uhler, program assistant, at nuhler@ku.edu with any questions.